Submission of applications before 1st June 2022
Invest in innovation and uniting a unique ecosystem to create virtuous marinas
Under the impetus of its Sovereign, HSH Prince Albert II, Monaco rhymes with sustainability.
Its commitment to environmental protection is driven by actions led by the Prince Albert II of Monaco Foundation and Yacht Club de Monaco for the yachting sector. These include launch of the SEA Index®, the first carbon footprint calculator for +40m superyachts, and organisation of the Monaco Energy Boat Challenge (4-9 July 2022), the meeting for alternative energy sources and propulsion systems to meet the environmental challenges of the 21st century.
The Principality is a land of innovation where the digital transition, as part of its Extended Monaco programme, has had a tangible impact in the last three years on the country's appeal and economic development. It is a role model that gives access to cutting-edge technology to international security standards, Sovereign and sustainable infrastructure (Sovereign Cloud, sovereign digital identity, 5G, fibre for individuals and professionals, and a plan financed by the Government to support Monaco-based companies in their digital transition).
This is a state that's committed to its digital transition policies – to build an avant-garde smart city, to improve the living environment of its residents, attract talented people from all over the world and better control urban planning and key environmental markers.
Supported by the Prince Albert II Foundation, Extended Monaco and the Yacht Club de Monaco through its La Belle Classe Destinations certification, the 2nd Monaco Smart & Sustainable Rendezvous will take place 25-26 September 2022.
Organised by M3, the Monaco company specialised in marina management, in partnership with open innovation ecosystem with positive impact experts, Blumorpho, this networking event brings together an ecosystem of 250 people representing the most important players in the sector. They include entrepreneurs and startups, there to meet industrialists, investors, promotors, marina developers and architects, in the quest to find innovative solutions to promote virtuous marinas and support the new yachting generation. This is 'smart' technology at the service of protecting the environment via better management of uses and resources.
Monaco Smart & Sustainable Marina Rendezvous is part of the collective Monaco, Capital of Advanced Yachting brand, the goal of which is to encourage all projects that aim to improve sustainability in the sector.
"The goal is to present all new solutions and innovative technologies in favour of protecting the environment in order to design marinas that are more virtuous, efficient, attractive and practical, in addition to being real places to live. New technologies, including digital, now make it possible to implement the energy transition through a better use of resources, the adoption of renewable energy sources and the protection of the sea and the ocean using adapted and sustainable economic models", explains José Marco Casellini, CEO of M3.
"Yachting industry is an important economic artery for the Principality and therefore a factor in the country's attractiveness. Innovation in this sector must play a central role in developing and modernising it while respecting the environment," says Frederic Genta, Chief Country Officer for Attractiveness and the Digital Transition.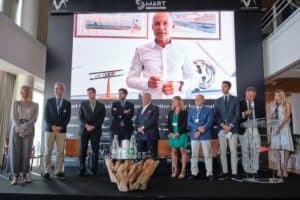 2022: Marina developers and Architects join selection process set up last year for startups to foster networking and elect the Smart & Sustainable Marina Awards winners.
To meet the challenges of virtuous marinas, this year the original concept for this event which focused on startups has been extended to include existing or under-development marinas, and architects. It is an opportunity for them to present their projects to reduce their impact on the environment and enter the International Smart & Sustainable Marina Awards. There are three categories (Startups, Marinas and Architects) awarded at the end of the event on 26th September.
The networking and selection process to participate in the International Smart & Sustainable Marina Awards is as follows:
1stMay – 1st June: E-Catalogue
This will reference startups, marinas and architects worldwide, selected by Blumorpho and M3 experts from all those who apply.
Registration deadline to participate in the Monaco Smart & Sustainable Process & Awards: Wednesday 1st June
15th June – 15th July: Grand Oral
One-on-one interviews with a Jury of industrialists, yachting professionals and investors that put participants into direct contact with potential strategic and financial partners.
10th September: Consensus Meeting.
The Jury will elect the International Smart & Sustainable Marina Award winners in the following categories: Startups, Marinas & Architects.
For Marina & Architect categories, the public vote will be also taken into account.
Registrations for the rendezvous: info@monacomarinamanagement.org
Press contact: smartyachting@monacomarinamanagement.org
Online registration form: https://form.jotform.com/221291773599367